Editor's note:
In this series of articles, I am using the acronym T.E.A.C.H.E.R to describe the "7 Keys to Prosperous Teaching." Each letter (T-E-A-C-H-E-R) represents a key to being a prosperous teacher.
T-Takes Care of Themselves
E-Empathizes With Other
A-Ask for Help
Today we will discuss key #4 to prosperous teaching- A Prosperous Teacher…(C)- Continues to Learn.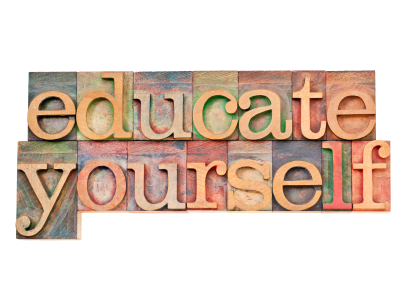 "Only surround yourself with people who will lift you higher."
-Oprah Winfrey
How can a teacher or home school educator stay at the top of their game in the classroom or in the home school environment? The answer lies in being teachable and continuing to learn through professional and personal development.
The most effective educators continue to build on the fundamentals and learn the best, most up-to-date practices that will help their students and children succeed.
Here are three ways that teachers and home school educators can continue to learn:
First, attend classes, workshops, educational seminars, and conferences to develop professionally in specific areas. Many local colleges and universities partner with local school districts to offer college and graduate level courses to help advance your career and pay scale.
In addition, school districts offer their own in-service professional development days for new and veteran teachers weekly, monthly, and quarterly based upon their areas of need.
For home school educators, local home school groups and regional home school conferences provide a place to network with other home school families. Here one can learn about the latest curricula, tips, and strategies to best served the needs of your home school child.
With so many educational conferences, workshops, and conferences out there to attend, how does one choose what is the best type of classes, workshops, or conferences to attend?
Personally, I use two criteria to select what I will spend time and money on for my continuing education: Relevance and Timing.
Is the class or workshop you are taking relevant to what you are teaching right now? For instance, you may be a high school math teacher who teaches many different math courses, such as Algebra, Geometry, Statistics, etc.. but this year your schedule may have you specializing in only Algebra. Then, I would choose professional development in that area.
The second criteria, timing, goes hand-in-hand with the relevance of the professional development you select. Will the continuing education experience bring your students or children immediate results? If the answer is yes, then, you can be confident that your selection for professional development was a good choice.
Lately, I am very interested in professional development opportunities that enhance student learning through the use of technology, since our students and kids are growing up in the digital age.
Therefore, I tend to select professional development that encompasses technology and online learning with topics and subject matter related to working with struggling learners, since this is my area of expertise.
The second way teachers and home school educators can continue to learn is by reading professional books or working through a home study course in an area of interest. Every year, many books and resources are written by professional educators and home schooling experts that you can buy at local bookstores or online to help you advance in an area of weakness or strengthen a topic or subject in which you already excel.
Starting or joining a professional book study with other educators or home school families is also another way to continue to learn with other like-minded individuals.
For instance, I am a member of my the School Improvement Committee (SIC) at the high school in which I work. Last year, while planning for the direction of the school and professional development for the staff, the SIC did a study on the book, Focus: Elevating the Essentials to Radically Improve Student Learning, by Mike Schmoker.
Schmoker's book emphasized focusing on a few core essentials in improving a school's overall effectiveness and improving student learning rather than multiple initiatives that were less significant. Using the core principles in
Schmoker's book, the SIC team discussed our school's improvement initiatives and came up with a plan to improve student learning by focusing on a few core essentials needed in our school over the next few years. That simple professional book study as a team was the catalyst for real growth in with our students in the areas of reading, math, and writing that continues to this day.
Professional Learning Communities, or PLC's as they are commonly referred to in the education arena, is a third way to engage in continuing learning opportunities. In my opinion, an effective PLC is in the business world to a mastermind group.
In these professional learning communities, or educational mastermind groups, educators are able to mind the wisdom of a group of like-minded colleagues in a specific topic or subject matter to help improve the needs of the school organization, specifically with improving student learning.
Over the past 2 years, the greatest professional development that has helped me prosper as an educator has been the power of working together with colleagues in various PLC's at my school. Currently, I am a part of two PLC's at my school. One in the Math department, where I co-teach and the other in the Special Education department, where I am a Learning Resource Teacher.
The ideas and strategies you can learn from your colleagues and share with them is invaluable. In addition, the relevance and timing of these tips and strategies have immediate results in the classroom and the learning of the students.
If your school, local home school groups, or co-ops are not engaging in professional learning groups or teams in some form or fashion, then I suggest you bring the idea of starting one to your administrator, department heads, or home school groups.
Finally, I will include one more way for K-12 educators to become prosperous teachers through continuing to learn: Become Nationally Board Certified. In 2010, I became a Nationally Board Certified teacher as an exceptional needs specialist working with kids 5-21 with mild to moderate disabilities. Going through the process of national board certification was probably one of the most difficult, but professionally rewarding experiences I have encountered during my 15 years as a K-12 educator.
The process in a nutshell made me filter everything I did as a teacher through the lens of this one question, "How is what I am teaching and learning directly helping to improve student learning?"
This one question helped me as teacher closely examine my lesson plans, instructional materials, professional development opportunities, and all activities in a different manner. After becoming nationally board certified, if I couldn't directly answer or show a direct connection to improving student learning, then I would be less likely to waste time and resources engaging in the activity.
The national board certification process isn't easy and often takes a few years to become fully certified. However, the personal reflection into the teaching process and the professional development it offers is invaluable.
You can learn more about the national board certification process at http://www.nbpts.org/
If you desire to improve professionally and personally, as a teacher, home educator, or parent then, prosperous teaching key #4-continuing to learn will help you to prosper in this area.
Remember continuing to learn new ways to help increase the learning of our students and children doesn't have to be expensive and the payoff in the long run is well worth it.
Prosperous Teaching Application Exercise: Identify a way to develop professionally from the article and one action step to help make that professional development activity a reality.
Leave a comment below about what you are going to do this year to continue to learn as a teacher, home educator, or parent.