Editor's note:
In this series of articles, I am using the acronym T.E.A.C.H.E.R to describe the "7 Keys to Prosperous Teaching." Each letter (T-E-A-C-H-E-R) represents a key to being a prosperous teacher.
T-Takes Care of Themselves
E-Empathizes With Other
Today we will discuss key #3 to prosperous teaching- A Prosperous Teacher…(A)- Ask for Help.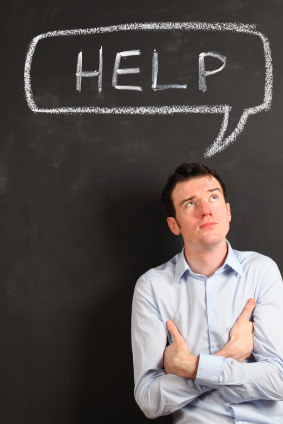 "Trust God from the bottom of your heart; don't try to figure out everything on your own. Listen for God's voice in everything you do, everywhere you go; he's the one who will keep you on track." -The Message
One of the most difficult tasks for teachers and educators to do is to ask for help when they truly get stuck and need assistance when working with difficult students or overwhelming assigned tasks. Why is that you may ask?
There are many possible answers to why one may not seek out help when it is absolutely needed. However, I think the root of the issue leads to one word: Pride.
Asking for help forces us as teachers, home school educators, and parents to acknowledge the fact that we don't know all the answers. It places pressure on us to admit that we may be stuck in dealing with a child's unruly behavior or helping our students get past their reading, writing, math, or social difficulties.
Let's face it, in this performance-based world, the perception is that when we ask for help, we are demonstrating weakness or a sense that we have failed in a particular area.
I want to counter this worldview by offering a different mindset and perception. First, let's examine the goal of instruction to our students and kids. As a teacher, my ultimate goal is to improve student learning. If that is the case, then I need to examine what are the obstacles to me improving the learning of my students.
If I am able to move past the obstacles in my instructional practice by getting help from another person or resource, and I refuse to do that, then, I become the one hindering the goal of improving student learning. No one else.
Let's take this a step further. Not acknowledging our need for help and seeking out assistance, when it is necessary and available is selfish. It becomes all about us saving face and not the success of our students and kids.
Next, not asking for help is hypocritical. How many times do we tell our students and kids when they get stuck on an academic assignment or any other task, to ask us for help? When they don't ask and do poorly on assignments, tests, or other tasks, we often chastise them for not advocating for themselves.
How is that any different from us as teachers, educators, and parents when we do they same thing? Don't require or demand anything from your students and children that you don't require or demand from yourself. It's hypocritical and our students and kids model what you do, not what you say.
When our students and kids ask us for help and they sincerely seek it out, we don't think of them as weak. In fact, we think the exact opposite. We are proud of them for being proactive in reaching whatever goal they are attempting to achieve at that time. Students that ask for help go farther and achieve their learning objectives quicker than the students that don't.
As teachers and home school educators, it serves to reason that we can help improve student learning more efficiently and effectively in a shorter manner of time, if we asked for assistance when needed. So, where do we seek out the help and resources we need when stuck?
First, if you are a faith-based person, start by asking God for help. As a teacher, in my own personal time, I pray for my students. Many of them have so many issues that they bring through the doors of my classroom that don't have anything to do with their ability to learn. However, these "outside issues" directly influences their learning in my class.
My conversations with God at times resemble something like this-
"Lord, this student is driving me crazy, can you help a teacher out?"
'I don't know how to help this student, Lord. Can you give me some direction?"
"If I get one more responsibility or piece of paperwork to add to my already growing pile, I'm going lose it. I need your help!"
Do you think God views these honest requests as weakness? Of course not. In fact, scriptures records the words of Christ himself saying in 1 Corinthians 12:9, "…My grace is sufficient for you, for my power is made perfect in weakness." That settles it for me. How about you?
Second, seek the help of experienced educational professionals. Whether you are a new or beginning teacher, veteran teacher, or a parent without a formal education background, there is a wealth of resources and answers that you can get from fellow colleagues.
If you are a home educator or parent, seek the help of local teachers, and other educational professionals, such as counselors and administrators. Finally, since we live in the age of information, there is a wealth of information online with a simple Google search that can help answer any questions you may have.
Third, enlist the help of parents. As a teacher, I find parents to be some of the most valuable resources at times, when it comes to helping my students. Parents are the experts on their kids and should be respected as such.
I know there tends to be this wall between educators and parents many times concerning the best educational practices for a particular student or child. Often, these differences can be better handled when both educators and parents keep the primary goal of improving student learning at the forefront.
Then, the focus is less on who is right or wrong, but what is best for the child and their needs at that particular time. Ultimately, teachers want to be respected as professionals, by parents. Parents want to be heard and valued as a member of the educational team of professionals, by teachers.
Finally, talk to the students or kids themselves. Often, as teachers, home educators, and parents, we start making decisions on what is educationally best for a student based on our perceptions. However, have we ever truly asked or valued the opinion of the students themselves by asking them?
You will be amazed at how a student or you child can advocate for themselves if they felt that their opinions would be valued in a non-judgmental manner.
For instance, one of my best meetings was when a 10th grade student of mine led his own Individualized Education Program (IEP) meeting. He introduced himself, his parents, and his teachers. Then, as each teacher discussed his strengths and weaknesses in their classes, he told them each what worked and didn't work for him in their classes and why.
Appropriate accommodations in the general education classroom were developed from this discussion. The student even spoke directly to his parents and told them that he was ready for some bigger academic challenges, which they thought he was not ready for yet. The IEP meeting ended with everyone having a greater understanding of the academic and social needs of the student and a united plan to help him reach his IEP goals in the upcoming year.
If you desire to prosper, as a teacher, home educator, or parent then, prosperous teaching key #3-asking for help, will allow you to spend less time hitting a wall and running into obstacles. It will allow you more time to dedicate to teaching and improving student learning.
Prosperous Teaching Application Exercise: Identify a student, child, or an area in your teaching practice in which you recognize the need for more help.
The student, child, or area in my teaching practice that I need more help in is___________________________.
Which of the four areas of help discussed above will you tap into to help you overcome this area of need ________________________.
Grab your free copy of my 5 day E-Course, "5 Secrets to Creating a More Efficient Classroom Environment." Just fill out the form on the upper right hand corner on this page. Your first lesson will be delivered to your email in-box immediately! Grab it Now!
***********************************************************************
Antoine McCoy is a Nationally Board Certified Teacher as an Exceptional Needs Specialist working with children with mild to moderate disabilities. He has taught children in all grade levels (K-12) in Public and Private Schools (general education, inclusion, and self-contained classes) and worked with homeschoolers. He currently is working as a Learning Resource Specialist in a high school setting.