Editor's note:
In this series of articles, I am using the acronym T.E.A.C.H.E.R to describe the "7 Keys to Prosperous Teaching." Each letter (T-E-A-C-H-E-R) represents a key to being a prosperous teacher.
Today we will discuss key #2 to prosperous teaching- A Prosperous Teacher… (E)- Empathizes with Others.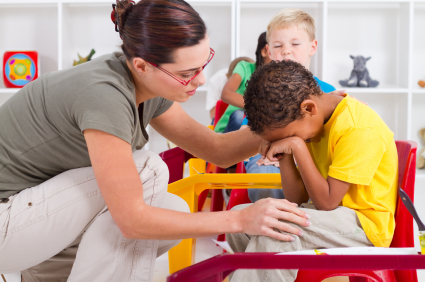 "Compassion is when we cross the bridge from sympathy to empathy"
-Noah benShea
One of the qualities of an effective teacher is having the ability to put oneself in another person's shoes and be able to walk a mile in their world, as you interact with them. This is what is called compassion or empathizing with another person.
Why is the ability to empathize with another person so important? The reason why this is so significant is because it is at the core of building effective relationships with one's students, parents, colleagues, and you own children at home.
There's a saying that people don't care how much you know until they know how much you care. In my experience as a teacher, this statement is so on point. Too often, we as teachers have the tools and resources to help our students and their parents. However, I have seen too often educators making judgments about a difficult student or parent and negatively label them.
Have you ever made statements such as, "that child doesn't care about learning," or "he or she just wants to occupy a seat?" "That parent doesn't care about their child? They just let them do whatever they want?"
I'll be honest, I have been guilty of making these statements in the past, but one day I was really convicted by one of my ninth graders at a high school I taught at in the Bronx,
New York. The experience really helped me examine myself and change my judgmental attitude towards some of my students.
Here's what happened.
I had a student of mine, named Valerie, who would always cut the last period of our math class at least a few times per week.
One day as she was making her way out the door to skip math class, I confronted her and accusingly stated, "You don't care about your education or passing math and I'm disappointed in you!"
She answered back softly and a bit embarrassed, "I'm sorry mister, but my babysitter quit on me a few weeks ago, and I need to go home and pick up my son! I will be back in class regularly when I can find someone to watch him."
It was then that I realized that she had a greater burden on her mind than solving an algebraic equation. She was trying to handle her responsibilities as best as she could being a 14 year old child herself.
Immediately, I felt both stupid and compassion for my student. Stupid, because I passed a judgment and made an assumption about her character, without giving her a chance to explain. I felt compassion and empathy because I couldn't imagine taking care of a child at 14 years old, and trying to be a student at the same time.
She was doing the best she could at that time. I apologized for making the judgment that she didn't care about her education, asked her a little about her son, who was 9 months old, and told her that I would try to help her as best I could to keep up with the work until she found a babysitter.
I didn't know the whole situation; nor did I need to know all the details. Our job, as educators, is to empathize, show compassion, and seek to understand our students, parents, and the colleagues we serve. Once a caring and understanding relationship is built, it is easier to teach our students and kids what we know. That is prosperous teaching.
Prosperous Teaching Application Exercise: Identify a child, student, parent, administrator, or fellow colleague that you need to show more empathy towards.
The child, student, parent, administrator, or colleague I need to show more empathy towards is___________________________.
One action step I will begin to take today to show empathy towards this person is _____________________________________________________.
I'll see you next time for the 3rd installment of this 7 part article series.
*************************************************************************************
Antoine McCoy is a Nationally Board Certified Teacher as an Exceptional Needs Specialist working with children with mild to moderate disabilities. He has taught children in all grade levels (K-12) in Public and Private Schools (general education, inclusion, and self-contained classes) and worked with homeschoolers. He currently is working as a Learning Resource Specialist in a High School Setting.
Get your free copy of the 5 day E-Course, "5 Secrets to Creating a More Efficient Classroom Environment" by filling out the form on the upper right hand corner on this page. Your first lesson will be delivered to your email in-box immediately! Grab it Now!