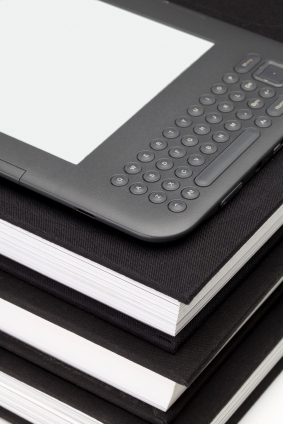 "The more that you read, the more things you will know. The more that you learn, the more places you'll go."

-Dr. Seuss

Let me start off with a little confession. I'm a book junkie. There I said it. If I had to drop everything and leave immediately from my house and take only a few prized possessions, then it would without a doubt be my collection of books hands down.

One of my dreams is to have a study or office large enough for my collection of books, but I don't have it at this time. Right now my books are in boxes in a closet in my hallway categorized: children's books, business books, books on the art of writing, Christian living books, education books, bibles and study aids, etc. You get the point. I love books and enjoy reading.

The problem is when I leave my house or travel, I always like to carry a bunch of books with me on different topics, but it is always inconvenient. Either it is too much to carry or frustrating deciding what to read.

All that changed this Christmas when Santa (my in-laws) bought me my first ebook reader, the Amazon Kindle. Ebooks were not new to me, but I could never keep them in one place and I needed a computer to read them. My Amazon Kindle changed all of that and made my reading experience that much more refreshing.

There are plenty of ebook readers out there that are good, but I can only speak from my experience with my Kindle. Here's why I love my Kindle. First, I can store hundreds of ebooks on the Kindle and read them all on one device. So, instead of carrying my bible and two or more books with me when I travel, I can store them all on my Kindle. Second, the Kindle is lightweight, has excellent battery life, and easy on my eyes.

Third, I can buy or preview a chapter of any book from Amazon's collection at the push of a button as long as I have WIFI availability. That's great for the times when I can't get to a book store late at night to scan or buy a book. Finally, if something strikes me in a book, I usually highlight it and write notes in the margin. The Amazon Kindle allows me to do this digitally right on the ebook device. How great is that?

As a special education teacher, who works with teens and kids who are struggling readers, I am always looking for ways to motivate and encourage the joy of reading. Let's face it; many students and kids don't read much anymore. The entertainment media from television, movies, DVDs, and video games is difficult to compete against in this digital age.

You have images on screen changing every couple of seconds and capturing our children's attention, creating the end product for them. That makes it hard for many of our children to sit still and read a book for an extended period of time, while using their imagination in the process.

I'm not against the use of entertainment and media in the education of our students and kids. However, when it replaces the imagination that books help foster, replacing the enjoyment and basic skills of reading fluency and comprehension, then I have an issue with it.

Leaders are readers. Statistics prove this. We want our students and kids to be leaders of the next generation.

Ever since I got my Amazon Kindle, I had been thinking about how this ebook reader and others like it could help ignite a passion for reading in my students. I am especially concerned about the boys I work with, who read way below grade level.

Last week I read an article about a school library that was testing the Kindles with a small group of students to see if it would promote increased literacy. The results appeared to be promising.

I had a few fifth grade students play around with my Amazon Kindle at school today and they really liked it and the features it offered. I believe that an ebook reader, like the Amazon Kindle can help schools, teachers, home school educators, and parents promote literacy with their students and kids.

For schools, purchasing ebook readers, like the Kindle, can be very cost effective. I can't predict the future, but I believe in the near future physical textbooks may be replaced with digital textbooks. Instead of carrying around a ton of expensive textbooks, they can be easily downloaded and new editions updated quickly using ebook readers.

In the classroom, teachers can help promote an interest in reading, especially with struggling or unmotivated readers by the use of an ebook reader, like Amazon Kindle. A colleague and I were talking the other day about the use of them in the classroom and possibly getting a grant to field test it and we discussed this very point.

Imagine you have a middle school or high school class of students all at different reading levels. The struggling 8th grader reading at a 3rd or 4th grade level will be absolutely embarrassed reading their an accelerated reading independent book at that level around his or her peers.

However, if everyone or a few students were reading on a Kindle, no one would know the reading level of the book. In many ways the Kindle levels the playing field in the classroom because the text and font would be similar for everyone. I know many more struggling and unmotivated readers would be more willing to read when the pressure and threat of exposure and embarrassment is taken out of the equation.

In addition, an ebook reader, like the Kindle, caters to different learning styles. The device itself allows kinesthetic learners to manipulate their hands when scrolling or turning pages. There is also a component where a text-to-speech feature and audio books can be used with the Kindle.

If you are a homeschool educator or parent, you can promote reading enjoyment at home with your teens and children as well. Reading books together on one or multiple Kindle devices is a great way to enjoy reading time with your children or have them share books with you. Also, many of the literary classics on Amazon are free and can be downloaded from the Amazon Kindle store.

Finally, why choose a Kindle for your kids? Well, it's fun. Reading become "cooler" to some kids because the medium has changed. It keeps them updated with the latest advances in digital technology, which this younger generation embraces.

Introducing ebook readers, like the Amazon Kindle, will never replace in my eyes the look and feel of a traditional book, but it has many advantages as I discussed above.

As an educator, my ultimate goal is to promote increased literacy and the enjoyment of reading for my students, especially my students with reading disabilities. If an ebook reader, like the Amazon Kindle, can be a tool to aid in that ultimate goal, I say bring it on!

If you want to find out more about the Amazon Kindle and its features, Click Here Now.

****************************************************

If you liked this post, I would love your feedback. Please leave me a comment below and then join me on Social Media (Facebook & Twitter) as we continue this journey together. Thank-you.

****************************************************

Antoine McCoy is a Nationally Board Certified Teacher as an Exceptional Needs Specialist working with children with mild to moderate disabilities. He has taught children in all grade levels (K-12) in Public and Private Schools (general education, inclusion, and self-contained classes) and worked with homeschoolers.