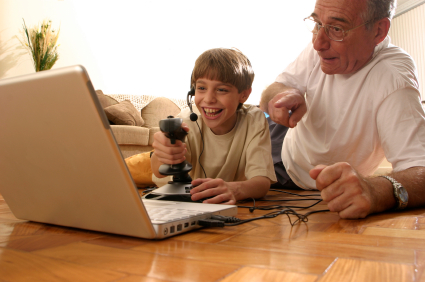 "We don't stop playing because we grow old; we grow old because we stop playing."
George Bernard Shaw
Do you remember playing when you were a child? What games did you play? Who did you play with? Where did you play? I can remember growing up in the Bronx, New York loving to go outside and play with my friends. In the big field in the back of my apartment complex, we played freeze tag, football, baseball, stickball, rode dirt bikes, played cards, etc…


The only care I had during those times was staying visible to my mom who could keep an eye on me by looking out the window. Then, as it grew dark and night time approached, I would watch for the street light that came on. That was my cue to come upstairs before my mom came looking for me. It was a simpler time back then. Play was my work and I performed it well.
Do you remember those times?
Now as an adult how hard do you play? If I was honest, my response would be not hard enough. What happened when we became adults? When did the shift happen? Life can be hard. We are faced everyday with decision after decision; stress after stress. Somewhere along this journey of life we became too serious and stopped playing.
Many of us can awaken our inner spirits by learning to play. As teachers, home educators, parents, youth workers, or anyone entrusted with the lives of the next generation, we can learn the fine art of play from our students and kids.
"But I'm too old. I have more adult things to manage," you may ponder. Not so. Here are some benefits of learning to play with our students and children:
First, play provides a personal connection with our kids. In a previous blog post, Loving Your Students To Success, I discussed how kids don't care how much we know until they know how much we care. Often there is this disconnect we have with our students and children because we are the adults and they are the kids. It often sounds something similar to this: We tell them what to do and they are supposed to listen. That's all well and good if we want to create robots, but that usually breeds rebellion from a child, especially if there is not a solid relationship developed.
Play helps build that relationship. Why? It's because it's not on our terms. It's on our students or child's terms. Play is their work and they get to be in charge and call the shots, within reason, of course.
What would it do for that disrespectful student in your class if you had a game day or recess time and you decided to play with him or her rather than sit and grade papers?
What would it do for that teenage son or daughter of yours if you sat down and asked them what the latest "hip" music was that they enjoyed? What if you listened to some tunes with them and listened without judgment? Not only will you begin to be seen as "cool" in their eyes, but you also will learn some valuable information about their gifts, abilities, likes, dislikes, friends, etc.
Second, connecting to our kids and students through play builds lifelong memories that they take into adulthood. When I was going to school, I don't remember how I learned to read, write, or do arithmetic. But, I do remember throwing the baseball around with my baseball coach in high school. I also, remember fielding grounders under the overpass before every game I went to at Shea Stadium to see the NY Mets play. I have fond memories and connections to these times that far outweighed any academic or parental advice I was given growing up.
Finally, learning to play is good medicine for our souls. When we let down our guard, forget about how it may look to others, and just live in the moment, playing with our students and kids can be FUN! FUN! FUN! Play awakens our inner child and refreshes the soul.
So, get on that swing, put on those roller skates, and dance silly with your students and kids. Connect through play. Create a lasting memory. Become child-like. When we do this, not only will it improve our relationships with our students and kids, but it will ignite that part of us that we may have let die or lay dormant over the years.
****************************************************
If you liked this post, I would love your feedback. Please leave me a comment below and then join me on Social Media (Facebook & Twitter) as we continue this journey together. Thank-you.
****************************************************
Antoine McCoy is a Nationally Board Certified Teacher as an Exceptional Needs Specialist working with children with mild to moderate disabilities. He has taught children in all grade levels (K-12) in Public and Private Schools (general education, inclusion, and self-contained classes) and worked with homeschoolers.